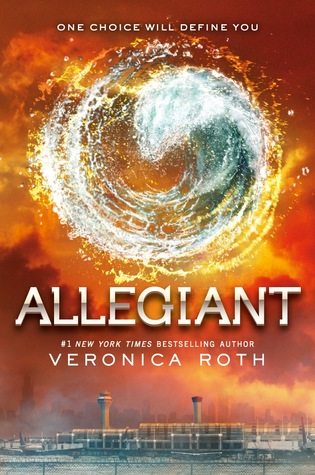 The faction-based society that Tris Prior once believed in is shattered—fractured by violence and power struggles and scarred by loss and betrayal. So when offered a chance to explore the world past the limits she's known, Tris is ready. Perhaps beyond the fence, she and Tobias will find a simple new life together, free from complicated lies, tangled loyalties, and painful memories.

But Tris's new reality is even more alarming than the one she left behind. Old discoveries are quickly rendered meaningless. Explosive new truths change the hearts of those she loves. And once again, Tris must battle to comprehend the complexities of human nature—and of herself—while facing impossible choices about courage, allegiance, sacrifice, and love.

Told from a riveting dual perspective, Allegiant, by #1 New York Times best-selling author Veronica Roth, brings the Divergent series to a powerful conclusion while revealing the secrets of the dystopian world that has captivated millions of readers in Divergent and Insurgent.
The Plot
Allegiant starts off a few days after Insurgent and Tris and her friends are being held prisoners by Evelyn. When they are exonerated after Tris is put under the truth serum, they watch as the new order functions. When the faction members decide to fight back the Allegiant are formed. Tris along with Tobias, Christina, Caleb, Peter, Cara, Uriah and Tori set out to find out what exactly is behind the fence they have always protected. What they find is shocking and turns up to be much worse than the faction world they were raised in.
The group sets out to uncover the truth of the Bureau and bring back order to their home as well as the new world they discovered. Lives are taken, betrayals are made, and at the end the ultimate sacrifice is made for the good.
The Characters
Okay lets starts of with Tris because I think she is a pretty kick ass heroine. Tris has always had the best interest at heart but she has grown to be a selfless leader. In Divergent and Insurgent she worried so much that she was selfish and also made some mistakes by jumping the gun. That changed in Allegiant. She was a soldier, but a strategic and kind one. She thought things through before acting and she learned to be leader. She was a hero. And although she loved Tobias I was happy to see her stand up to him and point out his wrongs and his worries about being "damaged". She was a stronger version of the girl that we met in Divergent and I can't say how much I adored her growth as a character.
This leads me to Tobias. I wish I could say he was everything I loved in the story. That's not the case. He kind of disappointed me a lot in this book. In Divergent he was this wonderful guy that was strong, bad-ass, kind and caring. I wanted to see him grow and open up to the people that loved him. That didn't really happen. In Allegiant, there is really not left of "Four". For the first half of the book, all that is left is an insecure and disappointing, Tobias. He spent the whole book struggling through insecurity over what others thought about him and in the first half, made a really stupid decision. A decision that had terrible repercussions. I have to admit there were times at the beginning of this book I wanted to punch him and shake the stupidness out of him. When we reach the middle of the book we finally get to see that kindness in him again and that hurt he has never been able to let go. That "weakness" in him made me want to reach through the book and hug him. Nonetheless, I didn't see now growth in him and in a way I feel like I should have felt more a connection to his character than what I felt at the end.
Now the secondary characters have always been my favorite. I loved Christina and Uriah and seeing their growth through the series was pretty fantastic. I also have to admit that I liked Peter, Caleb, Cara and Matthew. Although I have had a strong hate relationship with Peter and Caleb, at the end I feel like they at least realized their wrongdoings.
The Romance
Umm…yeah I'm not even going to touch on this because there is no reason too. Nothing happens that's different from the prior books. To me romance wasn't even a part of this book.
Love on the other hand was and that all knowing and self-sacrificing love was something I cherished about this series.
The Wrap-Up
So okay I had many issues with the first half of the book which made this a 4 star read for me. It was slow, boring and repetitive. I was about to give up but decided I had to make it through this. I'm glad I did because the second half is action packed and what I fell in love with in Divergent. I can't tell you how many times I cried, how much heartbreak I felt and how much anger. This series had a different ending than I'm used to, but somehow I couldn't see it ending any other way. At the end of it all sacrifice for those you love is one of the themes touched about in this whole series.
Overall, if you've started the series, end it with this. Prepare for a slow start but bear it and you will see the finale to Tris's story.
Favorite Quotes:

"There are so many ways to be brave in this world. Sometimes bravery involves laying down your life for something bigger than yourself, or for someone else. Sometimes it involves giving up everything you have ever known, or everyone you have ever loved, for the sake of something greater.

But sometimes it doesn't.

Sometimes it is nothing more than gritting your teeth through pain, and the work of every day, the slow walk toward a better life.

That is the sort of bravery I must have now."



"I fell in love with him. But I don't just stay with him by default as if there's no one else available to me. I stay with him because I choose to, every day that I wake up, every day that we fight or lie to each other or disappoint each other. I choose him over and over again, and he chooses me."




"She taught me all about real sacrifice. That it should be done from love... That it should be done from necessity, not without exhausting all other options. That it should be done for people who need your strength because they don't have enough of their own."




"I belong to the people I love, and they belong to me--they, and the love and loyaty I give them, form my identity far more than any word or group ever could."




"Yeah, sometimes life really sucks," she says. "But you know what I'm holding on for?"

I raise my eyebrows.

She raises hers, too, mimicking me.

"The moments that don't suck," she says. "The trick is to notice them when they come around."