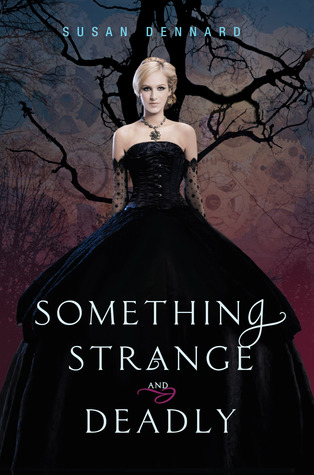 Synopsis
There's something strange and deadly loose in Philadelphia...

Eleanor Fitt has a lot to worry about. Her brother has gone missing, her family as fallen on hard times, and her mother is determined to marry her off to any rich young man who walkers by. But this is nothing compared to what she's just read in the newspaper—

The Dead are rising in Philadelphia.

And then, in a frightening attack, a zombie delivers a letter to Eleanor... from her brother.

Whoever is controlling the Dead army has taken her brother as well. If Eleanor is going to find him, she'll have to venture into the lab of the notorious Spirit-Hunters, who protect the city from supernatural forces. But as Eleanor spends more time with the Spirit-Hunters, including the maddeningly stubborn yet handsome Daniel, the situation becomes dire. An now, not only is her reputation on the line, but her very life may hang in the balance.
The Plot

Zombies are slowly taking over the country. For everyone in Philadelphia their perfect lives is about to change forever. Zombies have arrived in Philadelphia. And one of them attacks to deliver a note for Eleanor. A note that her brother has sent about being delayed.

When Eleanor realizes that her brother might be in danger she turns to the only people who might help her. The Spirit-Hunters that have arrived in Philadelphia. She is quickly thrust into the world of zombies and the Spirit-Hunters where she learns much more about herself and her will to find the answers to her questions.

Not only does she have to worry about finding her brother. She must also deal with an overbearing mother that if forcing Eleanor to find a husband, a royal that has his sights set on her, and a boy that sets her blood on fire. In Something Strange and Deadly, Eleanor learns to what extents she would go to save her brother and the people she cares about.

The Characters

Eleanor Fitts is the daughter of the once royal Philadelphia Fitts. With her brother missing she is charged with trying to save her family's wealth. Even if that means potentially marrying someone she does not get along with. But Eleanor refuses to let anyone tell her what to do. She has a determination and stubbornness that is inflexible. When faced with the zombies and a city that is filled with evilness she willingly offers to help and learn. She is fierce and doesn't let anyone bully her. Female leads like Eleanor make books much more enjoyable.

Joseph, Jie and Daniel are the Spirit-Hunters that Philadelphia has called upon. They are there for one purpose and one purpose only. To rid the city of the zombies. When Eleanor's mother unleashes an evil spirit into the world, they are determined to help Eleanor send it back to hell. What they don't count on is the lack of support of the city and the "hungry" zombies attacking nobles. As they try to find Ethan, find a way to kill the "hungry" zombies as well as regular zombies, and banish an evil spirit, the Spirit-Hunters come to realize that the problem is much more dangerous than they thought.

The Romance
Although there is a building romance in the book there isn't much of it. Daniel and Eleanor are two different people with two different duties in life. Although their time together is sweet it is also infrequent.

The Wrap-up
Something Strange and Deadly was a pretty good story. I enjoyed the historical aspect as well as the zombie aspect to the story. There were parts I thought were slow but overall I liked the story woven. Because I live in Philadelphia I found myself imagining all the places the author portrayed in the book. Overall a pretty good read. I look forward to reading more about Eleanor's new abilities and her relationship with the Spirit-Hunters.