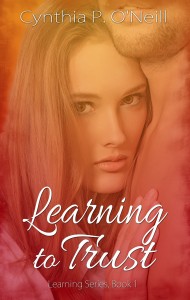 When Garrett Andrews finds something that catches his eye, he goes after it, letting nothing stand in the way of what he wants to possess. The first woman to arouse his heart could be the one person who helps him to finally open up and feel again.
Laurel Hart was a swimming champion until a frightful event and unknown health issues derailed her career. With a recent degree from MIT in Bio-Medical Engineering and an offer to join one of the leading innovators of medical equipment in the world, she plans on making a new life for herself; letting nightmares from her past stay in the past, or so she thinks.
Neither of them wants to date, but she finds herself drawn to him and Garrett uses every excuse to be near her. Laurel's afraid to let anyone get close, but finds solace in his arms. Garrett is finally able to be himself around someone. Together, they discover a connection that manages to soothe both their souls and starts opening them up to new possibilities.
Once Garrett finds out about Laurel's past, all rules in regards to "relationships" are changed, because one false move could drive her away. He attempts to calm her nightmares and gain her trust so he can show her who he really is and the relationship he desires from her.
Will they be able to overcome the damage their hearts have encountered? Can they find happiness? Can they trust their minds or will life throw each of them another curveball? Only time will tell if they can learn to trust.
(Thank you to Cynthia for allowing me the chance to read and review Learning to Trust and to Release Day Diva for allowing me to participate in the blog tour!)

Laurel Hart was raped by a guy she trusted and now has issues with trusting anyone. She is set to graduate from MIT and find a job far away from the memories. She and her cousin, Grace, are both excited when the opportunity to interview for the same company comes along. Cue Garrett Andrews.

Garrett Andrews, the HR employee at Waters Biomedical, is used to getting what he wants when he wants. And what he wants is Laurel. After a first glance she fascinates him so much that he is consumed with her. He would do anything to have her next to him. Even if he must lie to her.

Laurel isn't used to the type of guy that Garrett is but she feels safe with him and he excites a desire in her she never had. Laurel quickly learns to trust another man and what it is to actually feel passion. Lavished with all of Garrett's attention and gifts Laurel lets her guard down. But all that glitter isn't gold and Laurel is left feeling betrayed. On top of all that the guy that raped her isn't giving up on her and continues to hunt her.

Learning to Trust is a pure romance/erotica novel. The story doesn't get too vulgar but definitely has many awkward moments. It was a very well written book but to me seemed pretty implausible. Laurel had suffered through something pretty tragic and I didn't understand how she quickly trusted Garrett and allowed him to control her and her life. I would have liked her to take charge of her own life after what she went through but sadly that doesn't happen.

Cynthia definitely leaves us with many questions at the end of this story. I look forward to seeing what Garrett is hiding and hope that Laurel grows as a character in the next book.
Check out the other stops on the tour!!